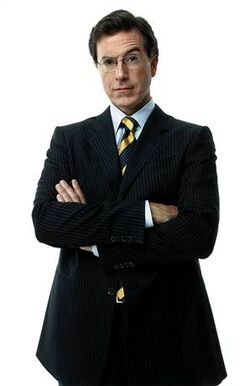 Stephen Colbert is the voice of Phil Ken Sebben and Myron Reducto. Because of his show, The Colbert Report, his characters were written out of the show, but Sebben (believed to be dead) made a surprise return during the series finale (again voiced by Colbert). Colbert did not return, however, to voice either character in the video game.
Other roles
Edit
His work as a correspondent on Comedy Central's news-parody series The Daily Show introduced him to a wide audience. In 2005, he left The Daily Show to host a spin-off series, The Colbert Report. Following The Daily Show's news-parody concept, The Colbert Report is a parody of personality-driven political opinion shows such as "The O'Reilly Factor". Colbert plays a fictionalized version of himself. Since its debut, the series has been successful, establishing itself as one of Comedy Central's highest-rated series, earning Colbert three Emmy nominations and an invitation to perform as featured entertainer at the White House Correspondents' Association Dinner in 2006. Colbert was named one of Time's 100 most influential people in 2006. His book, I Am America (And So Can You!) was No. 1 on The New York Times Bestseller List. He also attempted to run for President in South Carolina but was removed from the ballot.
In reference to his attempted campaign, Colbert was cast as The President of the United States in the upcoming computer-animated DreamWorks film Monsters vs. Aliens.
Community content is available under
CC-BY-SA
unless otherwise noted.