Harvey Birdman (Gary Cole) is one of the lead criminal defense attorneys at the law offices of Sebben & Sebben.
Harvey T. Birdman
First appearance

Bannon Custody Battle

Gender

Male

Age

36

Species

Human

Voiced by

Gary Cole
Personality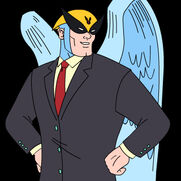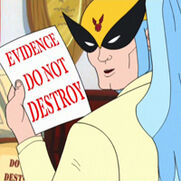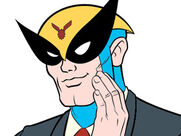 Harvey is a failed third-rate super hero, who has traded in his volcano base for a corner office in the law firm of Sebben & Sebben. Now a third-rate lawyer, he is determined to solve the case to which he has been assigned though occasionally he loses sight of the people in the case whenever more personal problems appear. He is constantly living in fear of getting fired. Aside from being a mediocre lawyer, Harvey struggles socially as well. He also is not too quick on the uptake when it comes to Mafia-like threats. Some characters, like Boo Boo and Magilla Gorilla, have revealed a bisexual side but he is part of a marriage to a gorgeous redhead named Gigi.
Powers
He gets strength and power from sunlight, and grows weak if kept away from the sun for too long. His superpowers include flight, the ability to create a shield of solid light, and the ability to shoot destructive energy beams from his fists. These powers are thought to stem from the crest on his helmet, though Harvey isn't entirely sure of the crest's true role in his powers. He also has large wings growing out of his back, genetically inherited from his father.
Co-Workers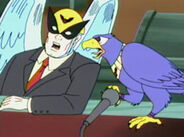 Rival Lawyers
Enemies
List of People Harvey has Represented
Trivia
Community content is available under
CC-BY-SA
unless otherwise noted.