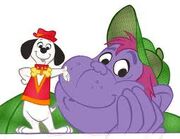 Grape Ape was the star of a Saturday Morning cartoon series produced by Hannah-Baraera from 1975-1979.
Background
Edit
Grape Ape's defining characteristic is his size, he appears in some scenes as his original 40-foot version and in others as about 6 to 8 feet. Ape is still in the company of, his now gymnastics coach, Mr. Beegly
In the Original Hanna-Barbera cartoon The Great Grape Ape Show, Ape was a 40 foot tall gorilla that traveled on top of a yellow van driven by his companion Beegle Beagle. His size was often an initial shock to others they would meet and his action, like crying or sneezing, produced floods or hurricane winds. He appeared in segments on The New Tom and Jerry/Grape Ape Show from 75-78 before getting his own series that ran for 16 episodes from 76-77, he also appeared on Scooby's All-Stars from 77-79.
Grape Ape is also the name of a strain of medical Marijuana.
Community content is available under
CC-BY-SA
unless otherwise noted.