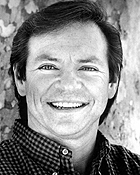 Frank Welker is one of the most famous voice actors of all time and on Harvey Birdman, Attorney at Law plays the voice of Avenger (in some episodes), Fred Jones (in "Shaggy Busted") and Jabberjaw.
Other roles
Welker has been referred to as a "voice acting god" in Hollywood for the sheer number of voices he has done—over 1,200—ranging from his work on Scooby-Doo to the present day. His voice acting credits include television shows and films such as Curious George, Aladdin, Pocahontas and computer games such as the Baldur's Gate series, and CarnEvil. Frank's ability goes beyond creating human voices and is often cast as animals and used for animal vocals.
As of 2002, Welker is the voice of both Fred Jones (a role that was first voiced by him in the original series) and Scooby Doo. This includes the most recent What's New, Scooby-Doo?, and the series-based spinoff, Shaggy & Scooby-Doo Get a Clue! Also, Welker starred in most of the 2000's Scooby-Doo projects as Fred Jones and Scooby-Doo. He also was Sasquatch in The Legend of Sasquatch. Welker's talent was also recognized in Disney's Stitch: Experiment 626, voicing the jealous and manicial Experiment 6-2-1.
In the 1980s, Welker voiced many recurring characters in the Transformers animated series. He voiced eight of the original 14 Decepticons: Megatron/Galvatron, Soundwave, Skywarp, Laserbeak, Buzzsaw, Rumble, Frenzy, Ravage, and Ratbat. He also did voicework as the Autobots Mirage, Trailbreaker and Wheelie. With the release of the animated film in 1986, he took on the role of the Autobot Wheelie and afterwards, took over the role of Galvatron from Leonard Nimoy. Having already provided the screams for Nimoy's character Mr. Spock in Star Trek III: The Search for Spock, this marked the second time he had inherited a role from Nimoy. Welker was asked to audition to reprise his original role of Megatron in the 2007 live action Transformers movie. Apparently due to conflict in schedules, Welker never met with the producers or director Michael Bay. Bay, however, had Welker send him a couple of recorded lines and concluded Welker's Megatron did not fit his new interpretation of the character. Although this did not occur in the film itself, Welker reunited with Transformers co-star Peter Cullen in the 2007 Transformers: The Game, with both returning to voice their signature roles. He also reprised his role in the animated prequel, a bonus premium of the DVD package. Welker also returned to two of his most famous Transformers roles when he portrayed Megatron and Soundwave as part of a spoof in the third season episode of Robot Chicken, aired shortly after the release of the live action film.